Guild:
When you join a guild, you can complete a bonus level every 24 hours. The level challenge requires you to find all three gold chests. You will obtain gems upon completion. If your guild has more members (you need to have signed up on Facebook), then you will gain more gems. You can gain up to 15 gems per day with at least 50 players in the guild. The amount of gold stars that are needed to win the gems increases with approximately 2 gold stars per player in the guild.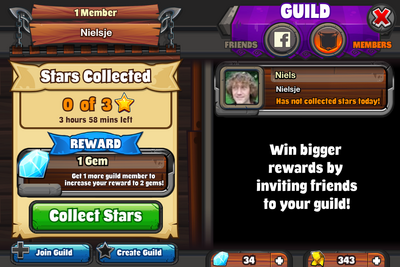 Ad blocker interference detected!
Wikia is a free-to-use site that makes money from advertising. We have a modified experience for viewers using ad blockers

Wikia is not accessible if you've made further modifications. Remove the custom ad blocker rule(s) and the page will load as expected.